FOR IMMEDIATE RELEASE:
September 28, 2020

Contact:
Jax Finkel
[email protected]
A HISTORIC DAY at a Texas Hemp Garden
Texas Philanthropist Hosts Texas Agriculture Commissioner Sid Miller, Chairmen of the Texas Industrial Hemp Council, Texas A&M, and Texas Veterans 
(Barksdale, TX.) — This weekend Texas philanthropist Laura Berry hosted a group of agricultural experts and other area officials for an industry roundtable and educational day at her hemp garden located on her south Texas ranch. Berry graciously welcomed more than two dozen participants including Texas Agriculture Commissioner Sid Miller; Texas Department of Agriculture's Industrial Hemp Council Chairmen, Tom Pickens and Eloise Frischkorn; Lieutenant General (Ret) Leroy Sisco of Military Warriors Support Foundation; Dr. David Baltensperger, Head of the Department of Soil and Crop Sciences with Texas A&M's Agrilife; and Jax Finkel, Executive Director for the Foundation for an Informed Texas.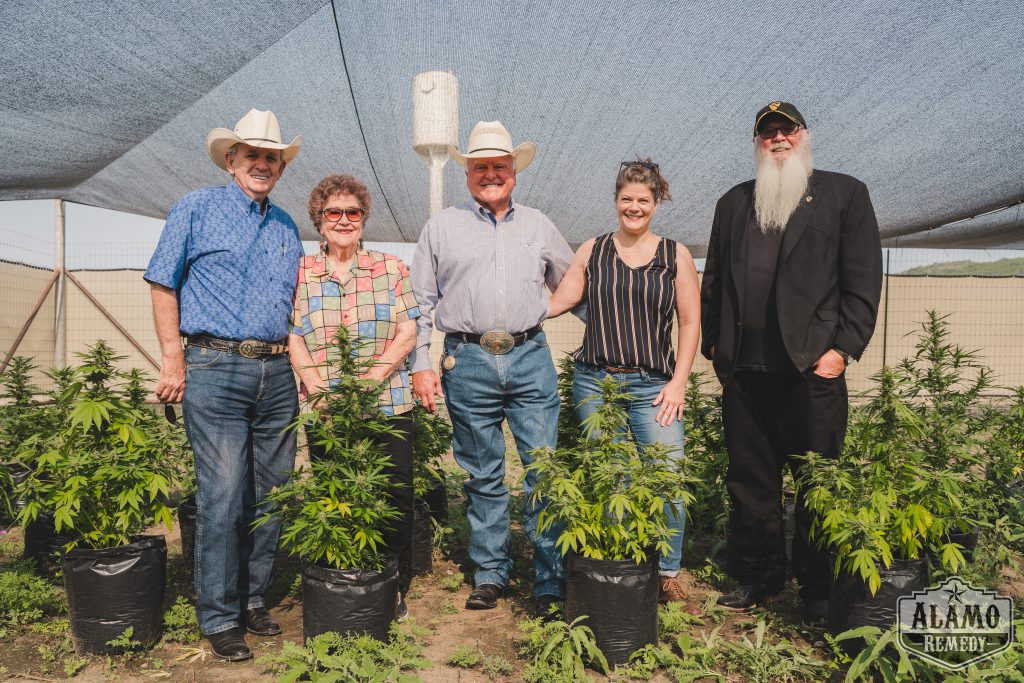 Others invited to study and discuss the innovative crop during its first Texas grow season were representatives of the first GO TEXAN CBD Brand, Alamo Remedy; as well as Texas advocates, entrepreneurs, farmers, and veterans.
The goal was to allow participants an opportunity to share information and facilitate a dialog on best practices efforts, with an emphasis on Texas farmers' needs in order to make hemp a thriving novel crop in the Lone Star State. Educational material on the historic rollout of the Texas Hemp Program was also recorded on premise and will be released in the upcoming months.
"I am a hemp farmer for the first time in my 89 years of life this year of 2020. Raising hemp has been an educational experience for me. I have spent this summer living on the farm with my family. It is not easy but the effort is rewarding and is good for the soul. My husband Marvin was a US Navy Seabee in World War II and to this day I call many veterans friend. I have dedicated my life to raising awareness and helping our military men and women. It is my sincere hope that the hemp industry will afford opportunities to veterans for employment and that my little garden will produce medicine for our patriots. I prayed over every seed that we sprouted that this would be the case. If this medicine can help even one veteran with sleep or pain issues I believe they have earned the right many times over. Every little bit helps and Mamaws Garden is proud to support Hemp, Texas, and Veterans everywhere. I would also like to thank Alamo Remedy for sponsoring the Texas Veterans Cannabis Conference,"

said Laura Berry.
Mrs. Berry hosted Commissioner Miller upon receiving her hemp licenses to grow this past spring when he chose to visit her as his first official Texas hemp grow visit. The commissioner helped her and her grand-daughters transplant seedlings to the next phase of growth. This inspired the commissioner to plant several acres of hemp on his own farm to better understand the plant and its process.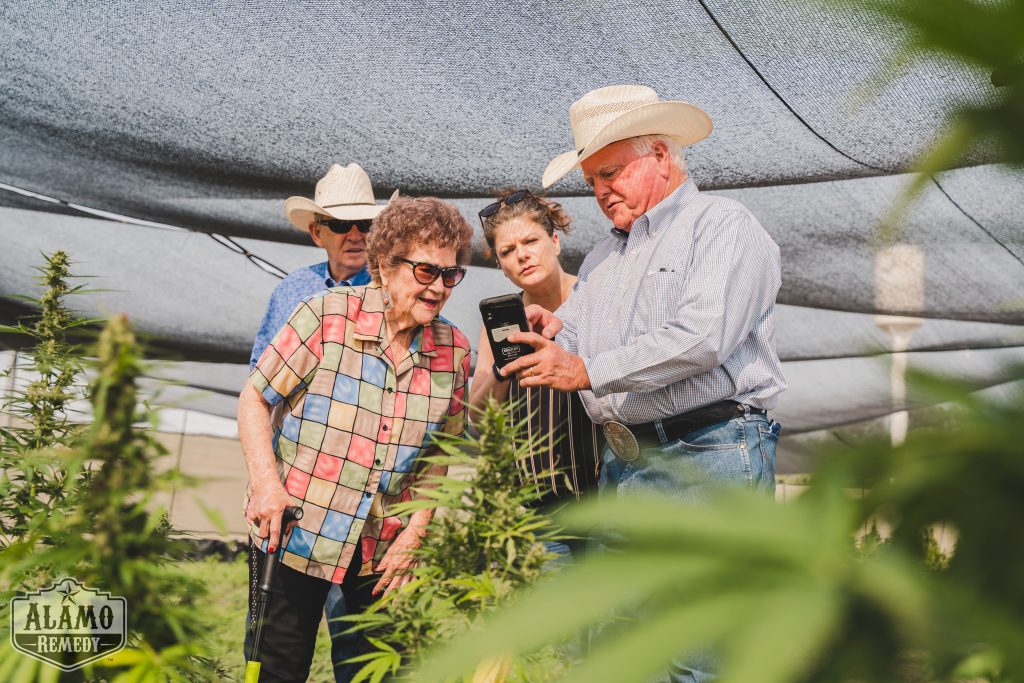 The group also discussed the therapeutic benefits of the plant with Texas veterans Ret. Major David Bass and Anita Sommers M(ASCP), an Air Force veteran.
Alamo Remedy is the first Go Texan CBD/Hemp brand and is run by Mason Berry, Mrs. Berry's grandson, and Aseem Ali. Go Texan is an important TDA program that has encouraged consumers to seek and purchase Texas-made products with its trademark brand, marketing assets, and campaigns. Alamo Remedy is dedicated to the power of natural healing, fueled by ethically sourced, organic, and affordable CBD products. The company is proud that their CBD oil tinctures, capsules, lotions, and gummies will carry the Go Texan logo. Through Alamo Remedy's sponsorship of the Texas Veteran Cannabis Conference, Mason continues the family's commitment to Texas' heroes. (Visit AlamoRemedy.com today with code TVCC20 for 10% off. Texas Veterans Cannabis Conference will receive a portion of the sales.)
"It is our responsibility as Texans to ensure the development and success of the hemp program Commissioner Miller has spearheaded for our farmers and stakeholders. This weekend was an example of industry leaders coming together to connect and cultivate what will be a strong and robust market for Texas Hemp,"

stated TDA's Industrial Hemp Council Co-Chair Eloise Frischkorn.
Mrs. Berry is a philanthropic fundraiser for the Military Warriors Support Foundation, which is run by her good friend, General Sisco. Through this foundation, they are able to provide hundreds of homes for disabled veterans. Mrs. Berry and General Sisco learned more about the opportunity to build hemp homes for veterans.
"I could not be more proud of this Hemp Product and what it does for our Wounded Heroes. Some who have never been able to sleep for years now are able to sleep all night. Therefore their healing of their body and mind does come much more quickly with maximum rest. This is just one of the major benefits of this tremendous product. Being now that Texas has it thanks to Agriculture Commissioner Sid Miller for putting his arms around this for the Great State of Texas. The massive effort that Laura and Mason Berry have done to make this happen is second to none. Our Heroes and their Families can't say Thank You enough to these Great Americans and Texans for what they have done. God Bless all of them…"

states Lt. Gen. Leroy Sisco, USA (Ret.).
The Berry family has also been collaborating with Texas A&M's Agrilife Extension on research regarding breeding and genetics, seed selection, and more. There are currently five locations doing research on hemp growth across Texas as part of this project. Dr. Baltensperger recorded a summary of their research's goal in order to educate farmers regarding their goals.
"Our goal is always to help the producers of Texas remain competitive in the world market and to have the best information in order to explore new alternatives. There are many questions regarding hemp production in Texas and we have initiated several projects to help answer those questions quickly,"

said Dr Baltensperger.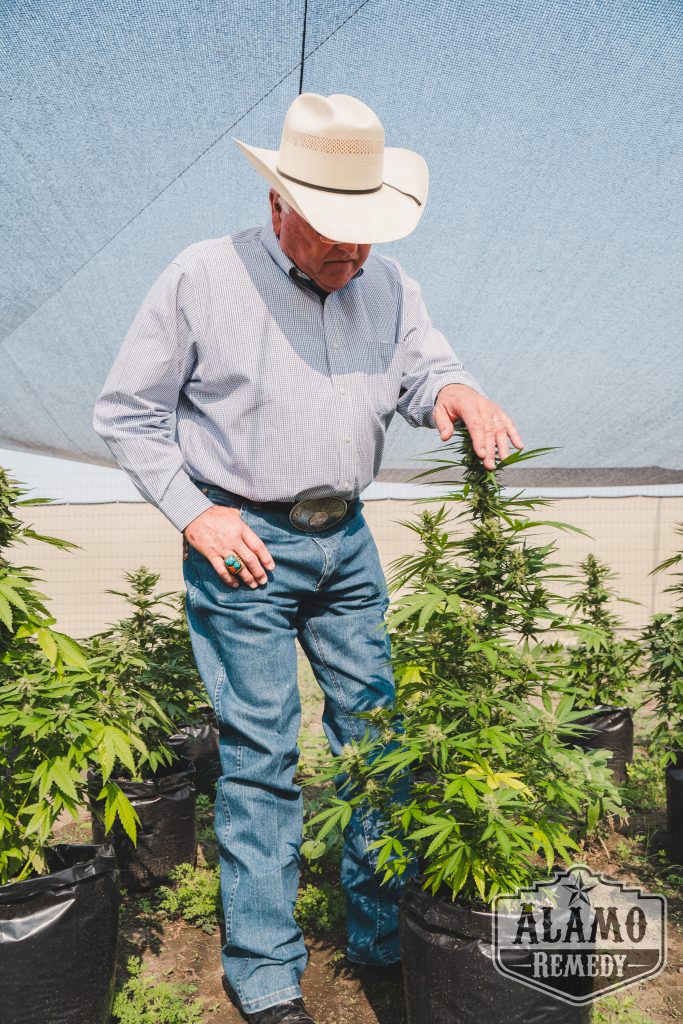 ###
Foundation for an Informed Texas (FIT) is a 501c3, tax-deductible, educational nonprofit that was founded to provide Texans with cannabis knowledge. Our mission is to provide timely, expert information to citizens, legislators, regulators, medical professionals, and law enforcement on the most pressing topics in the cannabis space.